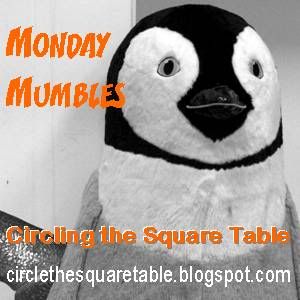 1. It's Monday and it's time for Mumbles again (don't forget to visit
TOOJE
) because I still can't resist having that cute penguin on my blog :). I do have two sweet pups who would argue they should be front and center, you know, if they could talk, so I may have to do a post all for them some day soon.
2. I went to the Mid-Atlantic Congress for Pastoral Leadership this past week. In addition to all of the conference-y stuff being awesome, I got to attend Mass said by a Cardinal (O'Brien of Baltimore) for the first time ever. If you follow me on twitter, you know I was indeed extra holy after the experience - ha!
3. Due to the conference, I am woefully behind on my blog reading. I think my reader had 70 unread posts in it this morning, and that doesn't count the few that I've read but starred to go back to. Ugh, I'm not sure I'll fully catch up so please accept my apology in advance if I've missed commenting on something important.
4. I've finally figured out some time to get back into my exercise-grove. (It's a good thing, because the Pittsburgh 5K isn't going to wait for me!) Let's hope the weather cooperates and I can stick to my plan.
5. Good news: WVU made the "Big Dance" and plays in the NCAA Basketball Tournament.
6. Better news: The first round is in Pittsburgh! (Just under 2 hours away :)). (I won't be going, but love that it is so close).
7. Bad news: WVU plays Gonzaga in the first round. Gonzaga always wins their first round game. It is the easiest pick I make on my Brackets - Gonzaga, First Round, win! Ugh.
8. Good, and frankly, beautiful, hilarious, and ironic news: Pitt (
you, know, that team I hate)
didn't make the NCAA Tournament. So, WVU will be playing IN Pitt's arena, while Pitt watches from their couches. Yep, they didn't even get an NIT invite. Ah, the sweet joy!
9. Potentially horrible news: A WVU loss in the first round, in Pittsburgh, in Pitt's arena. I really don't even want to think about this. Why does it have to be Gonzaga? Ugh!
10. I was worried I wouldn't have 10 things to say. Yay for Basketball! (Huh?!?! Did that sentence really just appear on THIS blog?!?! How many more days 'til Football Starts again? *sigh*)