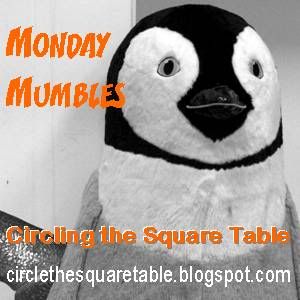 1. It's Monday and it's time for Mumbles...because, seriously, how can you resist that face? So, when you're finished here, go visit
TOOJE
and Mumble some more :).
2. I keep forgetting to say Thank-you! to so many of you who responded to my pleas and changed your blog settings to be mobile friendly. 'Tis much easier to comment and read and I am grateful! (I made the request and posted instructions in #2
here
.)
3. I am loving praying for my Prayer Buddy this Lent. Though, it's so. stinkin. hard. not to tell you who you are! Oh well, it's a fun secret to keep, and it has an expiration date. And prayer buddy, I have been offerring up all of my tears and anxiety for you.
4. The sting of CD1 doesn't last forever (thank God), but the emotions that follow in the days after, and sometimes seem delayed for me because my schedule can be so busy with so many things that require me to keep it together that I get caught off guard by some of the seemingly smallest things.
5. Winter tried to make a resurgence in the last couple of days - Kali, silly pup that she is, has been loving it.
6. Max has been conceding that if he is going to have another furry friend to cuddle with, it's going to have to be Mei Mei. I need to keep my actual camera nearby and not just my phone to get a picture of it.
7. I'm getting ready to head out the door for a Magnificat Intercessory Prayer team meeting. I always add all of you to our prayer intentions, I find such peace in praying for others. Keeps me out of myself and reminds me it's not all about me.
8. Not much else sends me into a panic attack quite like someone in "my" seat - ha! You have to check out this site (just click on the picture), it's great!
9. If I don't start running, swimming, and/or biking again soon the Pittsburgh 5K is really gonna hurt.
Sara
has way surpassed where I'm at, which is a good thing because she has the Pittsburgh Half-Marathon to worry about, but I'm planning to join in on some of her shorter runs.
Cassie
has a special white dress she's getting in shape for, so we are hoping to get in one run a week together. And then I'm quite sure Kali would not be opposed to getting some one-on-one time on a leash. That should cover my run days; the pool is always waiting; and soon enough it will be warm enough for the bike!
10. And that's about all I've got for today. Except to say that while that penguin is adorable, I'd really like spring to come back. Winter - you had your chance and you passed, it's Spring's turn.